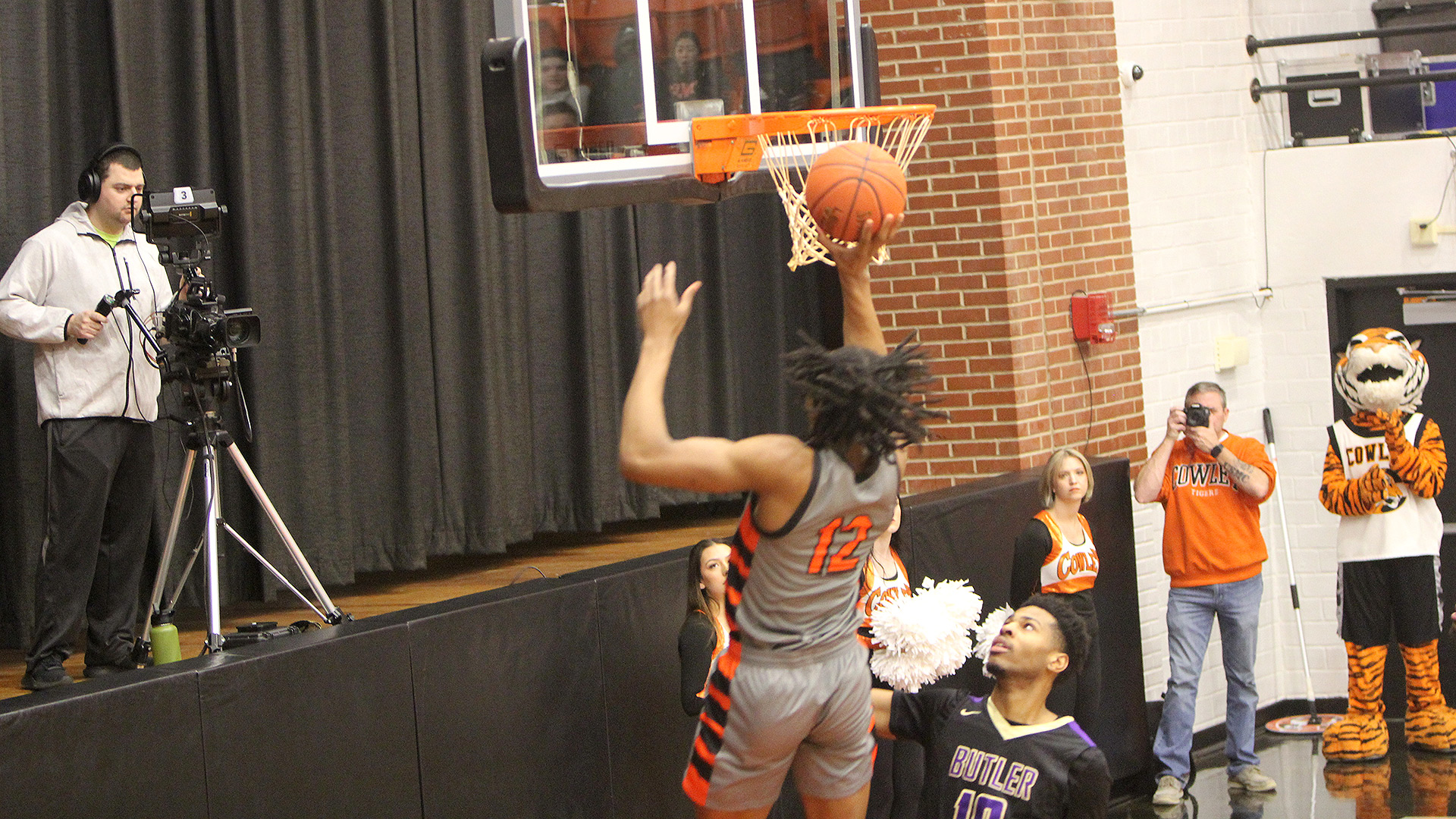 Butler storms back to knock off Tigers 87-81
Butler Community College - KS
(12-4, 6-4)
Cowley County Community College
(10-6, 4-6)
Coming off a road win at Colby on Wednesday, the Cowley College men's basketball team looked poised to make it two wins in a row as they built a 20-point first-half lead against Butler Community College Saturday inside W.S. Scott Auditorium. However, the Grizzlies shot 64.3 percent from the floor in the second half and out-scored Cowley 56-38 over the game's final 20 minutes as they rallied from a 12-point halftime deficit to win 87-81.
"That one will sting," Cowley head coach Donnie Jackson said. "We hit a wall midway through the second half and just could not get over it."
Trailing Saturday's game 15-14, Cowley used a 23-2 run to lead 37-17 following a dunk by Mekhi Cameron with 5:45 left in the opening half. Making 8-of-15 three-point attempts, the Tigers would go into halftime with a 43-31 advantage.
Cowley's lead would grow to 65-50 on a three-pointer by Demetrius Rives with 12:25 remaining before the Grizzlies started their comeback.
Javon Grant's three-pointer with 6:05 remaining tied the game at 71-71. However, Cowley answered with a three-pointer from Cameron and led 77-72 following another three by Rives.
Butler would go on top 81-80 on a basket by Tahjae Hill with 2:13 left to play and never trailed again as they closed the game on a 15-4 run.
"The effort and energy have been improving in practice; we just have to be able to sustain it all the way through games," Jackson said.
Cowley is now 10-6 overall and 4-6 in the Jayhawk Conference, while Butler improves its record to 12-4 overall and 6-4 in the conference.
After allowing more than 80 points in a game just once through its first nine games, Cowley has allowed six of its past seven opponents to crack the 80-point mark.
"We have to start playing better defense," Jackson said. "It had been a strength of ours and is now becoming something that is a liability."
Cameron led the Tigers with 20 points, while Rives added 16.
The Grizzlies' Isaiah Williams led all scorers with a season-high 24 points on 8-of-13 shooting.
Cowley will look to get back in the win column when they host Cloud County Wednesday at 7:30 p.m. The T-Birds are 10-6 overall and 6-4 in the Jayhawk Conference. Cloud allows only 65 points per game.
"Cloud is the best defensive team in our league and is a very tough team," Jackson said. "We will need to be on top of our game in order to bounce back."
The Arkansas City Middle School boy's basketball teams will scrimmage at halftime of Wednesday's game.
Box score:
Butler (87): Treylon Payne 3-5 1-3 7, Rob Brown 1-3 0-2 3, Javon Grant 4-10 4-4 14, Isaiah Williams 8-13 6-10 24, Isaac Ondekane 5-8 0-1 10, Caleb Golden 2-4 8-10 13, Tahjae Hill 6-11 2-2 16, Charles McLennehan 0-0 0-0 0, Dre Kemp 0-0 0-0 0. Totals: 29-54 21-32 87.
Cowley (81): Mekhi Cameron 7-15 4-6 20, Jeff Nwankwo 3-6 2-3 10, Mooch Austin 3-7 0-0 8, Demetrius Rives 6-15 0-0 16, Cameron Jernigan 2-4 2-2 6, Xavier Washington 4-4 2-5 11, Xavier Valley 3-8 1-2 10, Damare Smith 0-2 0-0 0, Trevion Alexander 0-3 0-0 0. Totals: 28-64 11-18 81.
Three-pointers: Butler 8-18 (Grant 2-5, Williams 2-5, Hill 2-4, Brown 1-2, Golden 1-1, Payne 0-1), Cowley 14-30 (Rives 4-9, Valley 3-7, Cameron 2-5, Nwankwo 2-4, Austin 2-3, Washington 1-1, Smith 0-1). Rebounds: Butler 35 (Ondekane 9), Cowley 30 (Nwankwo 7). Assists: Butler 11 (Grant 5), Cowley 17 (Cameron 4). Turnovers: Butler 9, Cowley 9. Total fouls: Butler 15, Cowley 24. Fouled out: Nwankwo, Austin. Technicals: none.