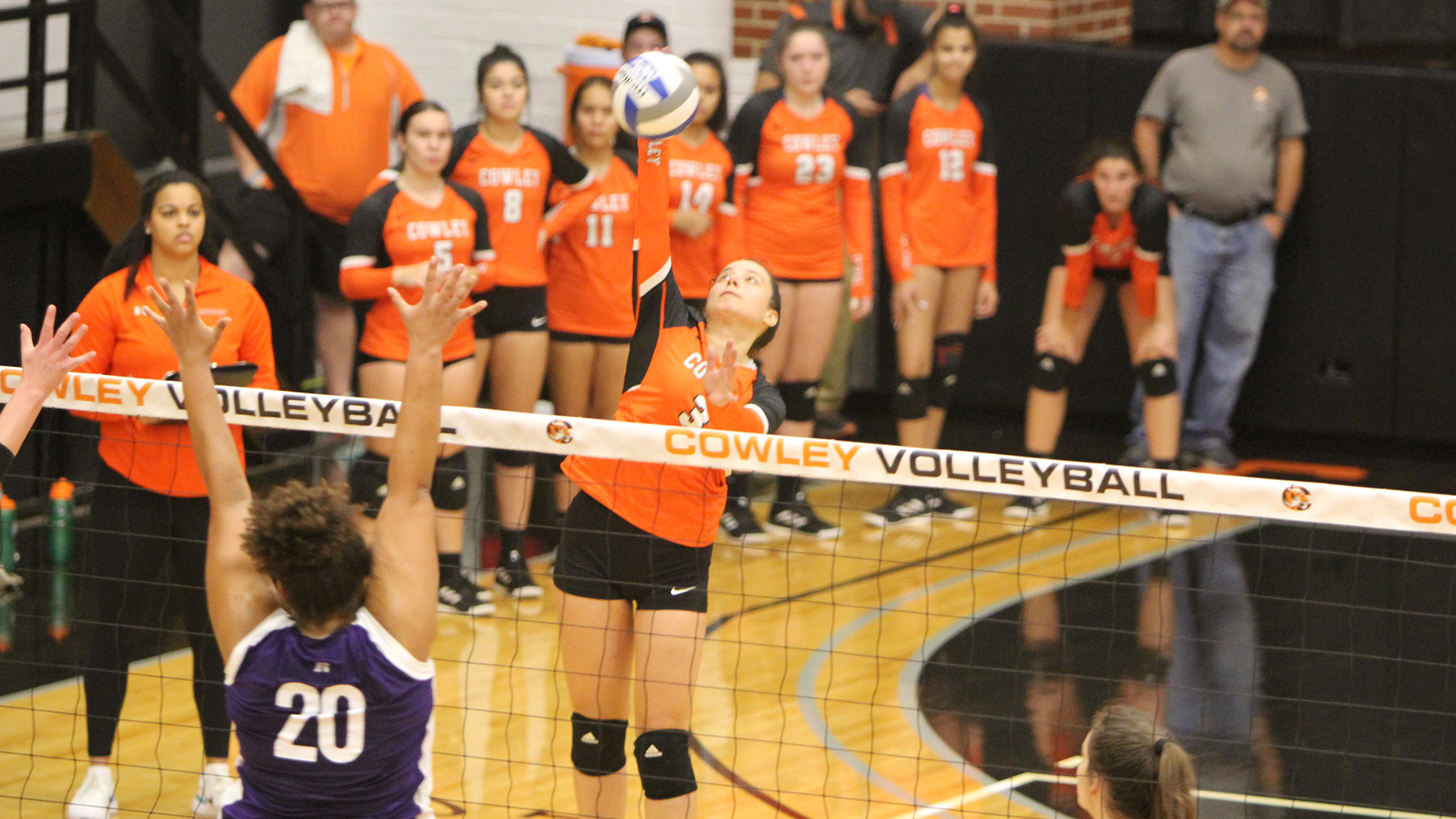 Lady Tigers drop another heartbreaker
Cowley County Community College
Butler Community College - KS
Cowley County Community College
Four days after dropping a hard-fought five-set match against top-ranked Johnson County, the No. 2-ranked Cowley College volleyball team found itself in another battle with a tough Butler Community College squad ranked 19th in the NJCAA Division I standings. Once again, the Lady Tigers went five sets with its opponent before losing 15-25, 25-17, 25-17, 19-25, 13-15 Tuesday evening inside W.S. Scott Auditorium. Cowley would return to the court and knocked off the Ottawa University JV 25-13, 25-11, 25-15 to finish 1-1 in the tri-match.
Cowley, winners of its first 20 matches, is now 22-2 on the season.
In the opening set against Butler, Cowley led 7-6 before the Lady Grizzlies ran away with the 25-15 win. The Lady Tigers would race out to a 6-1 lead in the second set en route to the 25-17 victory. With the third set tied at 15-15, Cowley rattled off seven straight points to pull away for another 25-17 win.
Seeming to have gained control of the match, Cowley came out uncharacteristically flat in the fourth set as they fell behind 10-1 to start. The Lady Tigers would fight back to within 20-15 before Butler held on for the 25-19 win.
"You cannot give good teams extra points, and we gave them way too many easy points, especially in that fourth set," Cowley head coach Steven Gream said.
Like Friday night against Johnson County, Cowley would be pushed to a fifth and final set.
There were seven ties in the final set against Butler. Cowley would lead 9-7 before the Lady Grizzlies scored four points in a row and went on to the 15-13 win.
Butler, winners of four matches in a row, improves its record to 16-7.
Sophomore Rachele Tessari led Cowley as she recorded a double-double with 15 kills and 10 digs. Laci Beougher (13 kills) and Gyongyver Araczki (10 kills) also finished in double figures in kills.
In the match against Ottawa, Cowley would score the first five points of set one and did not look back as they never trailed in the three-set win.
Beougher was nearly unstoppable in the victory, finishing with 17 kills and a .773 hitting percentage. Landry Cate added seven kills in nine attempts as the entire roster saw playing time in the win.
Cowley will now prepare to participate in the Ramada Inn Classic Friday and Saturday in Columbus, NE. The Lady Tigers will play matches at 5 and 7 p.m. Friday before finishing with matches at 11 a.m. and 3 p.m. Saturday.
"We will face some good teams that will help prepare us for even more difficult tournaments ahead of us," Gream said.